SWPL: Will Rangers, Celtic or Glasgow City clinch the title on the final day? | Football News
Penprose Ads
Penprose Ads
[ad_1]

Penprose Ads
Penprose Ads
Two games will decide the destination of the SWPL title with Glasgow's three main rivals all in contention ahead of a dramatic finale to the season.
Penprose Ads
Penprose Ads
All eyes will be on Ibrox and Celtic Park on Sunday afternoon with Rangers and Celtic just two points behind leaders Glasgow City.
City's 3-1 defeat in front of a record crowd at Parkhead last week, live on Sky Sports, ensured the SWPL season would go to the wire.
Glasgow, who had won the league for 14 consecutive seasons until Rangers' victory last term, have thrown away a seven-point lead in recent weeks.
Leanne Ross' side are still two points ahead of both their rivals but, given the goal difference, City will have to beat a stubborn Rangers to secure their 16th Scottish title.
Highlights of the SWPL clash between Celtic and Glasgow City.

Malky Thompson's women have only lost once in the league this season with Glasgow failing to win any of the last six meetings.
Fran Alonso's Celtic are favorites to beat Hearts at Parkhead as they look to claim a maiden SWPL title.
Although Rangers' 6-0 thrashing of Hearts on Sunday edged them one goal ahead of Celtic, their city rivals have scored more – something that would come in to play should they finish level on goal difference.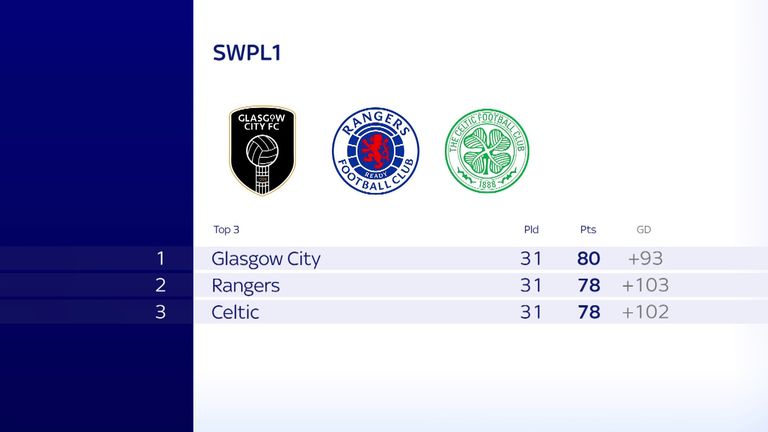 Thomson: We have the belief and capability
Rangers women's manager Malky Thomson is eyeing a final day victory over Glasgow City as they look to retain the SWPL title.

Rangers women's manager Malky Thomson is confident they can retain the SWPL title:
"What a finish, I don't think anyone could have scripted it.
"We'll keep an eye on developments in the other game, and that will probably give us the game plan to understand what scenario we're in.
"I think in any game when you've got the majority of your team playing well at the same time, which we did on Sunday against Hearts, then it all comes together. We're a hard team to beat and hard to contain when so many are playing to their potential.
Rangers Women midfielder Tessel Middag believes the SWPL's final day title decider will only help to grow the game in Scotland.

"It's great (to play at Ibrox), it's every player's dream to go and play at the big stadiums. We've experienced it before in the Champions League and against Aberdeen and it's the whole day, having the pre-match meal there like the men's team. The entire build-up towards the game is so professional.
"We're a new team, we're only three years into it and it's about getting experience. We've proven that we have the belief and the capabilities within the squad, technically and tactically, and there becomes an air of confidence about it.
"Right now Glasgow City are in control and we must put a gameplan together where we then become in control of the game and that's what we'll be doing in our build-up to this massive game."
Ross: It's in our hands
Glasgow City head coach Leanne Ross says they are determined to beat Rangers on the final day of the season to reclaim the SWPL title.

Glasgow City's head coach Leanne Ross insists all they are thinking about is a victory at Ibrox:
"Obviously we would've liked to have had it wrapped up before now and we have been in a position where we could have had that done but, unfortunately, that's not the case.
"We go into Sunday's game knowing exactly what's at stake and it'll be really exciting for everyone involved.
"We've approached every game since the split knowing if we win we keep it in our hands so it isn't any different on Sunday. There's a lot more at stake in terms of there being no second chances so we know what we need to do and we're going all out for the three points.
Glasgow City midfielder Hayley Lauder insists their defeat to Celtic is forgotten as they look to reclaim the SWPL title on the final day of the season.

"We have taken it quite hard in terms of the results that we've had but the players have been great. They've stuck together, pushing each other in training so I'm really happy with how they're responded in terms of results but we need to make sure we're ready for Sunday because we know what's at stake.
"I didn't think the big crowd affected us at Celtic Park, it was a great atmosphere and it was good to see so many out supporting then team so I'm hoping it's the same on Sunday (at Ibrox). I do think, as a player, you take energy from there being an atmosphere in the stadium."
Alonso: It couldn't be more exciting
Celtic women's manager Fran Alonso's hoping for another record crowd as they look to beat Hearts and clinch their first ever SWPL title.

Celtic women's manager Fran Alonso is hoping for another record crowd at Celtic Park:
"It's a credit to the whole league but especially to the top three who have been fantastic this season.
"It's incredible that for the first time three teams in the title on the final day. No one can call who is going to win, anyone can win and anyone can finish in the Champions League places.
"On top of that the two games are going to be inside the two best stadiums in the country, it couldn't be any more exciting for the women's game in Scotland.
"I look at the wider picture and we want to attract the best players here, we want to retain the best players we have and we want to make this a top league in Europe. These steps we are taking are huge and I think the fact that we have a very competitive league is very important.
Celtic's Caitlin Hayes insists winning the SWPL would mean more than her Player of the Year awards.

"I think we have a good chance of beating the record crowd again, the last game at Celtic Park was incredible and I'm expecting something as good or even better. It isn't in our hands but it could be the best day of the players' and my life.
"We will totally ignore what's happening in the other game because it isn't in our control. Every single game we try to win, we will focus on our game on Sunday and if we're lucky enough to score a goal then we will go for the next one and hopefully we don't concede.
"Winning the game means Champions League and that, itself, is a massive success for us."
Scottish Premiership & SWPL on Sky Sports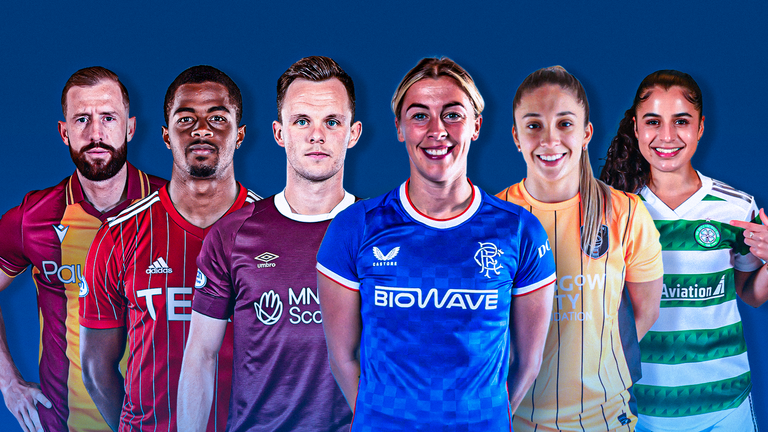 Sky Sports – This season up to 48 cinch Premiership games will be available across Sky Sports' flagship channels, including Sky Sports Football and Sky Sports Main Event, plus at least five SWPL matches. From 2024/25, up to 60 cinch Premiership will be live on Sky Sports, in addition to the SWPL.
Sky Sports News – Running 24 hours a day, seven days a week, Scottish football fans can enjoy Sky Sports News' (channel 409) rolling editorial coverage of the cinch Premiership and SWPL throughout the season.
Sky Sports Digital – Follow all the latest from Scottish football across skysports.com and app, including exclusive features and interviews, plus dedicated live blog coverage, in-game clips from matches live on Sky Sports and free highlights.
Sky Sports Social – Alongside coverage and visibility for the league across all Sky Sports' main social media channels, the bespoke Twitter channel @ScotlandSky will continue to be the home of all Scottish football content on Sky Sports.
Highlights show – Tune in for a dedicated round-up from the cinch Premiership every week on Sky Sports Football.
To download the Sky Sports app click here, to visit Sky Sports website click here.
Sky Sports is the home of domestic football in the UK and Ireland, with more than 400 games per season across the SPFL, SWPL, Premier League, WSL, and EFL.


[ad_2]

Source link