Arsenal 0-3 Brighton: How Roberto De Zerbi's side adapted in second half to beat the Gunners | Football News
Penprose Ads
Penprose Ads
[ad_1]

Penprose Ads
Penprose Ads
It appears the defeat to Brighton on Sunday was the final nail in the coffin of Arsenal's title challenge. Captain Martin Odegaard proclaimed after the game: "It feels like there's no hope."
Penprose Ads
Penprose Ads
You'd be hard-pressed to find an Arsenal fan who disagrees. The Gunners have had a fantastic season but faltered at the stage where dropping points is a sin.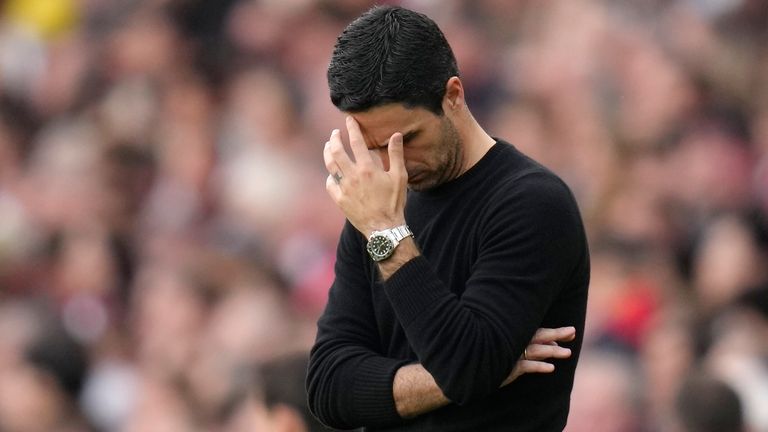 Akin to recent games against West Ham and Liverpool, Arteta's game plan for the first half was working. Not to say Arsenal were all over Brighton, but their high press was certainly stopping them in the first phase of build-up.
The second half, however, was a completely different story. Arsenal barely laid a glove on Brighton. It is worth analysing the stark differences between the first and second halves at the Emirates Stadium.
Arsenal's tight first-half pressing
FREE TO WATCH: Highlights from Brighton's stunning win at Arsenal in the Premier League.

We are almost at the end of the season. Analysts of clubs can dissect exactly what teams have done throughout the season and deduce how to play against them, pinpointing their weaknesses.
In Manchester United's FA Cup semi-final with Brighton, Erik ten Hag stifled De Zerbi's build-up by going man to man, halting central progression and Brighton's stupendous build-up.
Arteta on Sunday in the first half did something similar, but had the luxury of Arsenal's high press to cause turnovers as opposed to just stopping Brighton from smoothly progressing, transforming the out-of-possession approach from stopping the opponent's attack into a method of attack by winning the ball deep in Brighton's half.
With Brighton building up in a 2-4, Gabriel Martinelli and Martin Odegaard would press Lewis Dunk and Levi Colwill. The wide full-backs of Moises Caicedo and Pervis Estupinan were covered by the wingers, and the midfield two of Pascal Gross and Billy Gilmour had Granit Xhaka and Jorginho just behind them cutting off the pass centrally.
When Caicedo and Estupinan tried to invert and become narrow options to pass to, the wingers in Saka, Jesus or Martinelli tracked them. What Brighton want teams to do is press the defence so they can quickly release the ball to midfield. With the midfield pivot and full-backs covered though, the two in defence didn't have a clear pass on to find them, stopping the ball getting from A to B by marking B.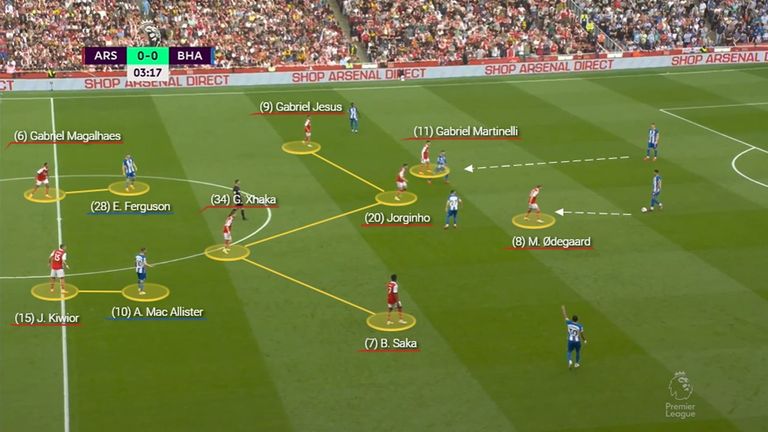 Normally, De Zerbi's response to this is a roaming striker (Evan Ferguson) or roaming number 10 (Alexis Mac Allister) dropping in between the opponent's midfield and defence to link up and be an extra option to pass to. Defenders Gabriel Magalhaes and Jakub Kiwior bravely pushed right up whenever this occurred.
What you had from an Arsenal point of view is the front two, pressing the defence to cut off the pass to the midfield pivot of Gross and Gilmour. Jorginho and Xhaka man-marking them anyways in case they received it. The wingers track the wide or narrow full-backs and the two centre-backs push the defensive line high to mark the central attacking midfield and striker dropping deep to link the play up.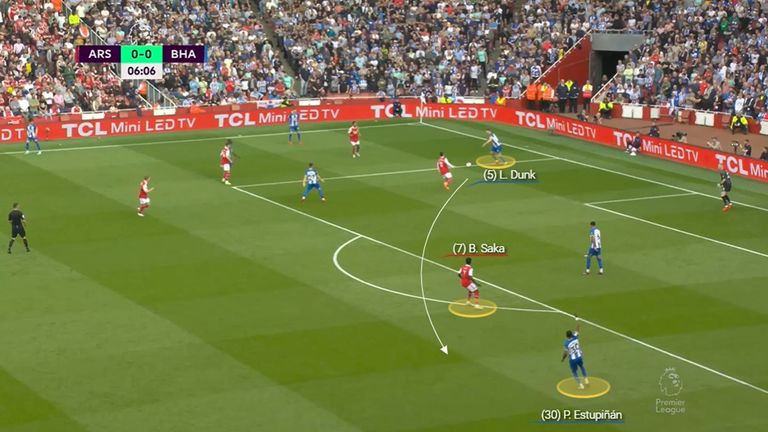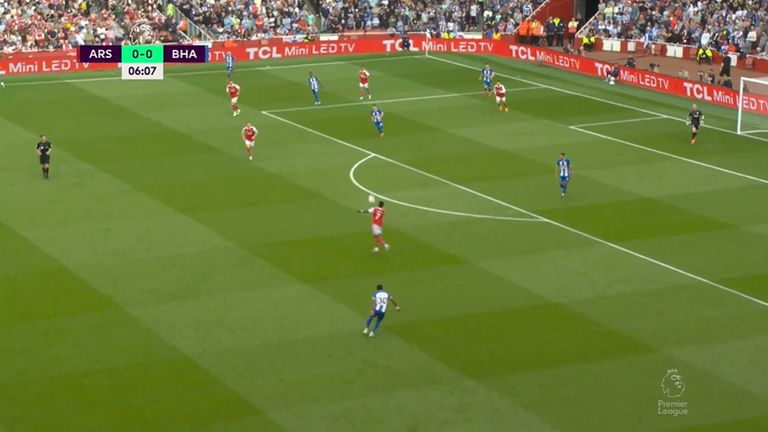 This forced Brighton to push their full-backs and wingers as wide as they could with the central areas covered in terms of progression. The aim is to knock it long and wide so Kaoru Mitoma or Julio Enciso can get a one vs one situation with Arsenal scant at the back as most of their players are pressing.
Arsenal's press is one of the most intense in the league and led to occasions where Arsenal cut out passes and turned the ball over in Brighton's half.
Arsenal's press is good enough to stop teams from playing and gaining possession by pressing them high up the pitch.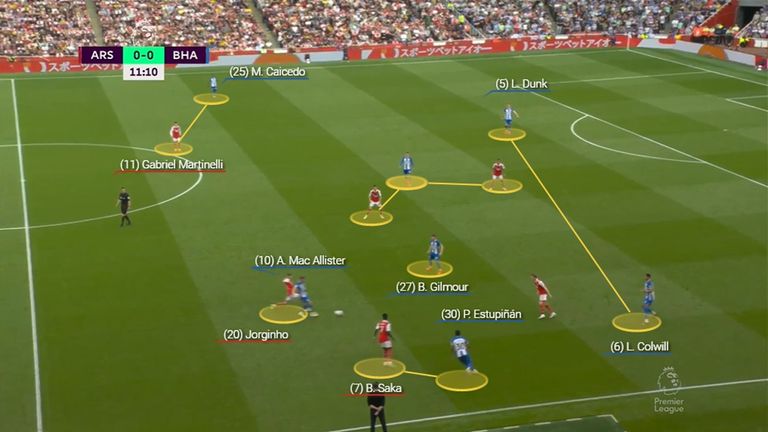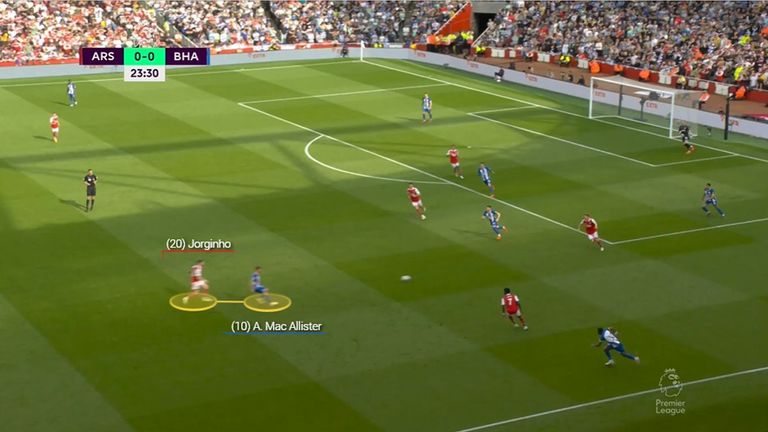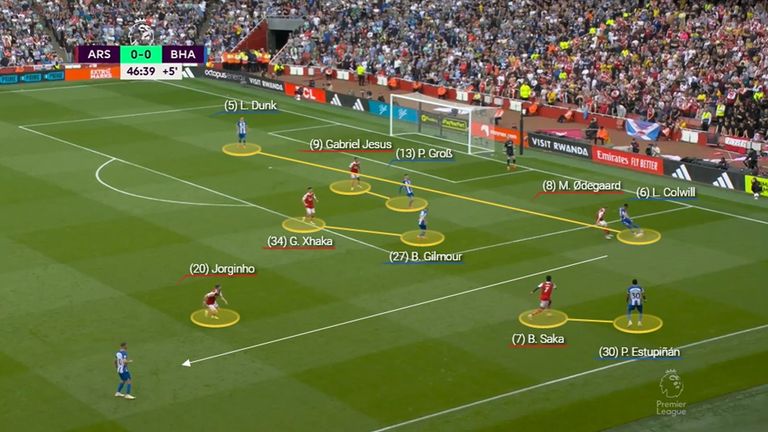 In an attempt to get on the ball more, Mac Allister was coming deeper as Arsenal's press squeezed Brighton. Mac Allister is normally excellent at receiving the ball, playing a quick one-touch pass around the corner to get Brighton up the pitch as he has a license to roam and drag opponents around, meaning it's hard for a team to guess where he will receive a pass.
When he does receive a pass, the Argentinean flicks it around the corner to a wide winger or striker. In one action, he has bypassed the press.
Jorginho was excellent at following him but also quickly stepping in to make the challenge, so Arsenal's intensity robbed Brighton of the ball close to their own goal. Odegaard at times dropped in to cover Brighton's midfield two as opposed to pressing the centre-backs, keeping Arsenal's four-two press.
Mac Allister pushing up
This pressing structure narrows Brighton's options in terms of what to do with the ball, but similarly baits in a lot of Arsenal players.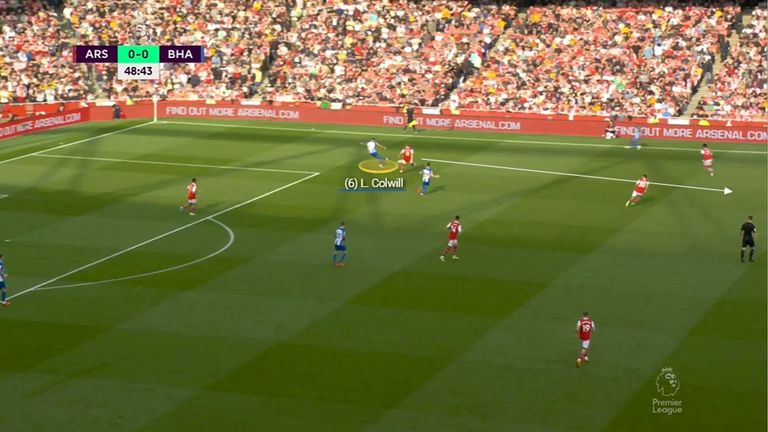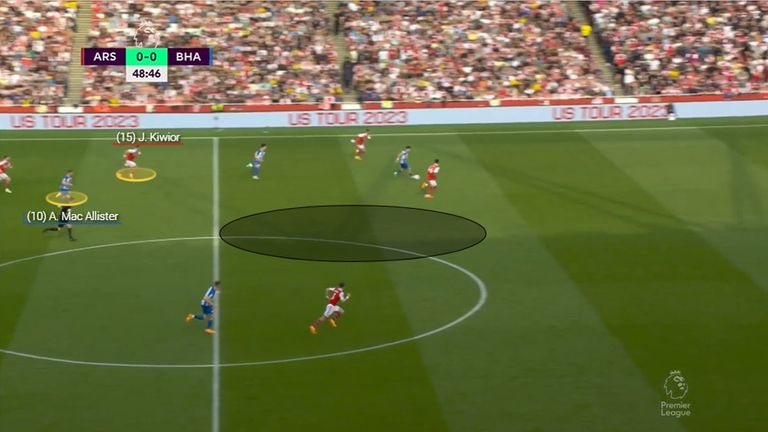 It felt like Brighton were more adapted to Arsenal in the second half and used it as an advantage. You also aren't going to stop Brighton's build-up each time so when the press is eventually bypassed and you've committed players up the pitch, it creates danger.
Mac Allister, instead of dropping deep pushed up 10 or 20 yards. This meant instead of Jorginho nicking the ball from him in Brighton's half he had to scurry back to track him, in turn dragging out Jacob Kiwior to cover Mac Allister.
As Odegaard pressed Colwill, it left gaps in Arsenal's press because Jorginho was forced back with Mac Allister pinning back Arsenal's defence.
Pushing Mac Allister up created gaps in Arsenal's press to exploit. For the goal, Colwill once again goes long to find Mitoma high and wide but look at the gap created in Arsenal's midfield four from Jorginho running back. Brighton baited six Arsenal players up the pitch and bypassed them releasing Mitoma in a one vs one with Ben White eventually leading to the goal.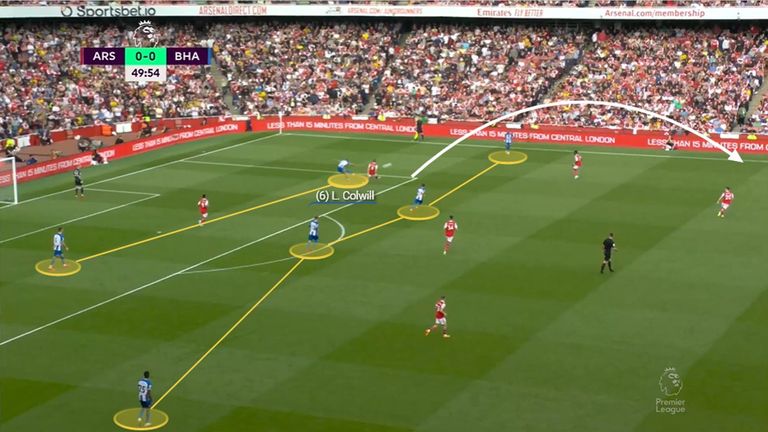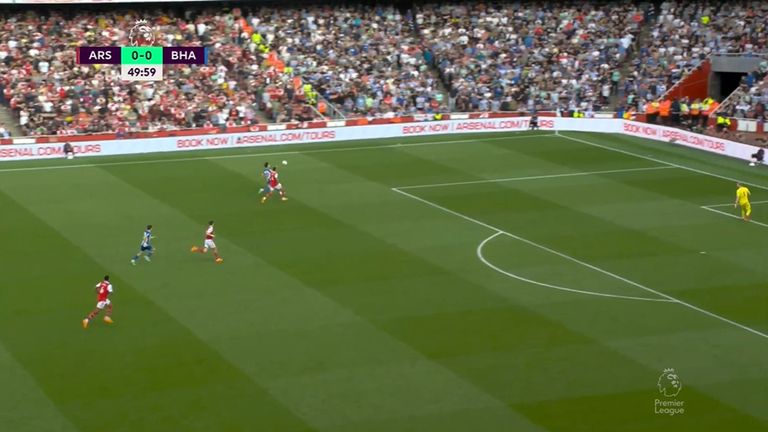 Odegaard is forced to press Colwill, leaving Gilmour free in the middle but Jorginho doesn't know whether to stick or twist and is distracted by Mac Allister's movement.
After the goal, the state of the game changed with Arsenal's press becoming looser and Brighton finding more space in midfield. Perhaps the change in personnel effected Arsenal's shape out of possession with Trossard, Reiss Nelson and Thomas Partey subbed on.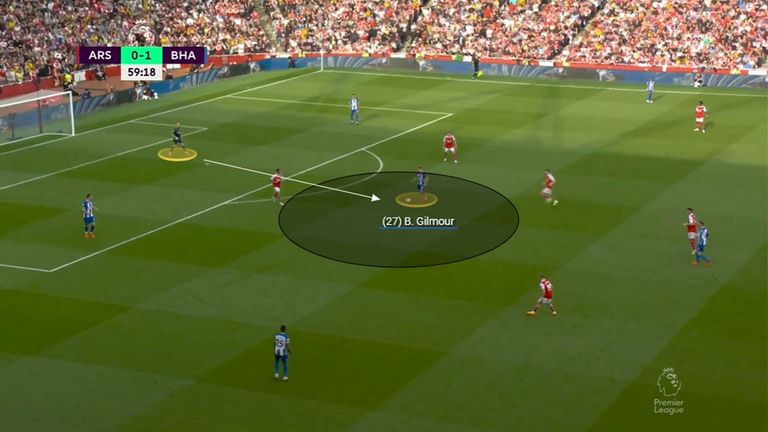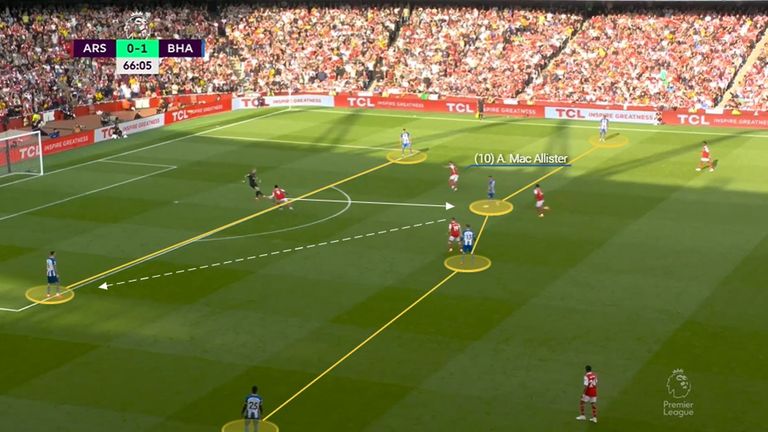 It became easier for Brighton's midfield pivot in Gross and Gilmour to receive from the keeper and progress the ball with an Arsenal midfielder too slow to close them down or being in the wrong position as they received the ball.
For instance, Mac Allister was able to evade Partey's marking and quickly play a first-time ball into Lewis Dunk, with Nelson far from Caicedo. Easier progression, looser pressing.
Arsenal's PPDA (passes per defensive action) increased remarkably from 7.2 in the first half to 12.7 in the second. Conceding more passes before you make a defensive tackle or interception means the opponent is having a lot more joy in possession and the pressing has faltered in intensity.
Arsenal boss Mikel Arteta apologised for his side's second-half performance after they were beaten by Brighton and said his team did not have the answers to the Seagulls.

A combination of De Zerbi slightly tweaking things, Arsenal wilting when being a goal down and putting in another nervous second-half performance means the title will probably go to Manchester City sooner.
Whether it was West Ham, Southampton or Liverpool, Arsenal found it incredibly tough when goals have changed games to find their calm sequences of play and wrestle back control of a game. Their title charge has been magnificent but ultimately not reacting aptly when a goal has unsettled them has seen them stumble at the finishing line.
[ad_2]

Source link