Watford to honour England legend Frank Soo as ex-Hornets exec Raj Athwal makes history in India with Odisha FC | Football News
Penprose Ads
Penprose Ads
[ad_1]

Penprose Ads
Penprose Ads
Watford will honour football trailblazer and former Stoke City player Frank Soo during their season-ending Championship clash with the Potters on Monday, Sky Sports News can exclusively reveal.
Penprose Ads
Penprose Ads
Soo, whose father was Chinese, became the first player of Asian heritage to represent England when he appeared in a wartime international against Wales on May 9, 1942.
Sky Sports News celebrated the 80th anniversary of Chinese-origin former Stoke, Leicester, and Luton Town footballer Frank Soo becoming the first Asian-heritage player to play for an England side.

A former team-mate of Sir Stanley Matthews, Soo went on to make a further eight international appearances during the Second World War before later embarking on a coaching career that took him to Scandinavia and beyond. Soo died in 1991, aged 76.
Watford's Community Sports and Education Trust already works closely with the Frank Soo Foundation, through ESEA Hornets, who are the Fans for Diversity Campaign's first ESEA supporters' group, to increase East and South East Asian participation in football through monthly community sessions.
The three groups will now join hands again to celebrate Soo's milestone appearance, with a digital tribute during 16th-placed Stoke's visit to Vicarage Road on the final day of the Championship season.
Frank Soo Foundation spokesperson Antony Chang told Sky Sports News: "We're delighted to come together again with our friends and partners at Watford Football Club to celebrate Stoke City and England trailblazer Frank Soo.
"The last day of the Championship season is a great platform to highlight Frank's incredible story, and it's fitting that the visitors to Vicarage Road are Stoke City where Frank played the best football of his career."
ESEA Hornets founder Alan Lau told Sky Sports News: "It's a huge source of pride for me and everyone in the East and the South East Asian community that Watford continue to remain at the forefront of the positive activity around ESEA football.
"Frank is a bona-fide England legend, who also had productive spells at Leicester and Luton, and it is so important that we share his story at a time where there is a lack of East and South East representation across football. The search for the next Frank Soo continues."
Ahead of the game, people from across the football community will gather for a pre-event hosted at the Watford Museum hosted by curator and Trust Champion award winner Sarah Priestley, featuring a discussion with Frank Soo researcher Lewis Peers.
Watford FC, ESEA Hornets and the Frank Soo Foundation teamed up with the Sky Sports and Sporting Equals partnership last September for a free event at Vicarage Road, aimed at promoting East and South East Asian inclusion in the 'Beautiful Game'.
President Athwal returning to England after historic win in India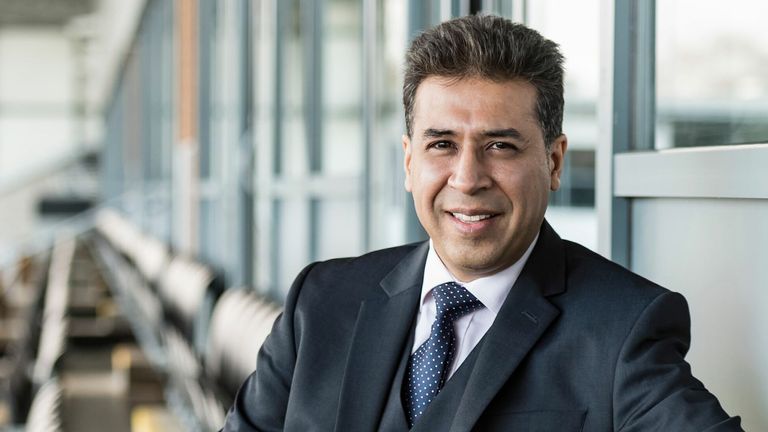 Meanwhile, former Watford commercial director Raj Athwal is returning to England after making history with Indian Super League side Odisha FC.
Sky Sports News revealed back in January 2021 that Coventry-born Athwal was taking charge at Odisha and becoming the first British-Indian ever to take up the role of president at an Indian Super League club.
Athwal made an instant impression at the club who were bottom of the table when he took over, coming on Sky Sports News to condemn distasteful and offensive post-match remarks made by then-Odisha FC manager Stuart Baxter, before sacking the Englishman.
Odisha finished mid-table the following season and continued that improvement to reach the play-offs this time around, after Athwal put his faith in Indian head coach Clifford Miranda to replace Spaniard Josep Gombau who left the club back in March.
After 25 years in British football Raj Athwal told Sky Sports News' Dev Trehan why becoming President of Indian Super League club Odisha FC was too good an opportunity for him to turn down.

They ended up beating red-hot favourites Bengaluru, managed by former Leeds United and Sunderland boss Simon Grayson to lift the Hero Super Cup – Odisha's first-ever men's trophy – before defeating Gokluam Kerala last week to qualify Odisha for the Asian Federation Cup for the first time in their history.
President Athwal, who brokered a technical partnership between Odisha and Watford last year, told Sky Sports News: "I'm incredibly proud to have repaid the faith in me shown by the club's owners to play my part in my helping deliver this historic trophy success to football fans in Odisha and beyond.
"This has been a team effort where so many have made sacrifices. I've spent a long time away from family and friends and look forward to returning home and celebrating this success with them.
Wrexham hero and former Watford goalkeeper Ben Foster said he was excited by the potential of the Hornets' three-year partnership with Indian Super League side Odisha FC.

"I took on one of the most most difficult jobs in Indian sport and knew that if I failed it would set British South Asians in football back years. I hope the success I've had with Odisha can inspire every South Asian who dreams of being part of the 'Beautiful Game'."
For more stories, features and videos, visit our groundbreaking South Asians in Football page on skysports.com and South Asians in the Game blog and stay tuned to Sky Sports News and our Sky Sports digital platforms.
[ad_2]

Source link