Mikel Arteta urges fans not to lose perspective on Arsenal's progress and says tough decisions loom this summer | Football News
Penprose Ads
Penprose Ads
[ad_1]

Penprose Ads
Penprose Ads
Mikel Arteta has urged supporters not to lose perspective on how far Arsenal have come and insists he is prepared to make "tough decisions" to strengthen his squad this summer.
Penprose Ads
Penprose Ads
The Gunners' chastening 4-1 loss to Manchester City last week extended their winless run to four games following the draws with Liverpool, West Ham and Southampton, allowing Pep Guardiola's men to seize the initiative in the Premier League title race.
Arteta insists Arsenal will keep fighting until the end of the season as they prepare to welcome Chelsea to the Emirates Stadium live on Sky Sports on Tuesday, but feels they can be proud of their progress, having already guaranteed Champions League qualification.
Asked if he would have taken being in their current position – a point behind leaders City having played a game more – if he was offered it back in May last year, the Arsenal manager told Sky Sports News: "Yes – and I think next season we would do the same.
FREE TO WATCH: Highlights from Arsenal's 4-1 loss to Man City

"We would take it next season, all of us, to be in the same position. That's why we cannot lose perspective.
"A lot of people have done an incredible job to be in the position we are in now. With six games to go, we are already qualified for the Champions League.
"That hasn't happened in over a decade in this football club. We are the youngest team in the league.
"We are still upset [about the loss to Man City] and we are not accepting that. We want more.
"This is the best mantra we can have, to go for what we want and finish the season in the right way to try to win the Premier League."
While Arsenal's form has stuttered, defending champions Manchester City have been practically flawless, their 2-1 win over Fulham on Sunday making it eight in a row in the Premier League.
Arsenal manager Mikel Arteta insists the title race is not over, and his team will not be satisfied with simply qualifying for the Champions League.

"This is the most competitive league that I've seen in 22 years, without a question of doubt, and we are right in the mix," said Arteta.
"I'm very proud of the players and very proud of the club, and everybody who is contributing every single day to do what we do.
"But we still cannot accept where we are. We have to be better because the level is what it is.
"I've learned a lot in the last 10 months about the squad. The other day [against Man City] was more about the level that we can produce on the day, the level that we still have to raise on those occasions, and what is needed to win those matches.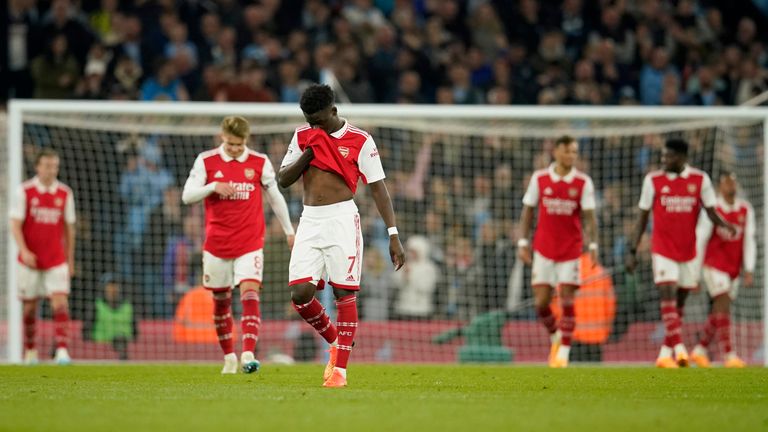 "But as well to be proud of what the team has done and how we are coping, to stay there for 10 months toe to toe with them."
Arteta ready to make 'tough decisions'
Arsenal will be aiming to build on their progress in this summer's transfer window and Arteta admits there will be difficult decisions to make on player exits as well as new signings.
"They are always tough decisions," he said. "Whether it's to recruit, or other decisions. Some players sometimes don't want to continue with us, some staff members.
"It's always tough, especially when you have good relationships with those individuals, but we are here to win.

Tuesday 2nd May 6:30pm


Kick off 8:00pm

"That's the purpose of everybody at the club. We have to win and to win we have to do it in our way and to do that we have to make decisions."
Arsenal spent a combined total of £59m to sign Leandro Trossard from Brighton, Jorginho from Chelsea and Jakub Kiwior from Spezia in January and Arteta insists he has no regrets that they did not strengthen further.
"We are very happy with what we've done," he said. "We have tried to maximise what we could do.
"We have to stretch ourselves all the time to seek the best and we have to continue to do that.
"We have to be really humble to recognise that we have to be better, but knowing who we are, the resources we have, the team we have, the potential we have.
"If we do that we will be in the right place."
May 2: Chelsea (H) – Premier League, kick-off 8pm, live on Sky Sports
May 7: Newcastle (A) – Premier League, kick-off 4.30pm, live on Sky Sports
May 13: Brighton (H) – Premier League, kick-off 3pm
May 20: Nottingham Forest (A) – Premier League, kick-off 5.30pm, live on Sky Sports
May 28: Wolves (H) – Premier League, kick-off 4.30pm
[ad_2]

Source link