Arsenal Women: The Gunners are paving the way despite cruel Champions League exit – this was a lesson in legacy | Football News
Penprose Ads
Penprose Ads
[ad_1]

Penprose Ads
Penprose Ads
When the dust settles, Arsenal's Women's Champions League meeting with Wolfsburg will be remembered for all the right reasons. Fond memories with only the slight tinge of fading disappointment.
Penprose Ads
Penprose Ads
The Gunners did not win the game, but boy did they put on a show.
The enormity of the occasion could be felt for miles around north London, as red and white shirts adorned with the names of Vivianne Miedema and Leah Williamson, among others, shuffled cheerily towards Emirates Stadium.
Never before had Arsenal Women been the headline act in front of a capacity crowd at the home of their men's team. But, on a reassuringly warm May bank holiday afternoon, with the sweet smell of spring in the air, they took centre stage as if already accustomed to the parlances.
Like a prized boxer in their umpteenth title fight – this was a showpiece.

Friday 5th May 7:00pm


Kick off 7:30pm

Arsenal rose to the occasion triumphantly and proved how – 10 years after attracting just 1,600 to a game against the same opponents in 2013 – the landscape of women's football has changed irreversibly.
Nearby tube stations were overflowing, the route to the stadium was lined with tens of thousands of expectant fans, turnstiles A-Z were packed, queues could be seen at every programme vendor and refreshments stall.
It was Jonas Eidevall's side that had charmed them. They were there to see Arsenal Women.
The Kmita Twins commend Arsenal Women's performance in their loss to Wolfsburg

It is a coming-of-age story like no other, and it had to be Arsenal, England's longest-standing and most successful women's club, who paved the way. A record attendance of over 60,000 was a dazzling sight to behold.
"I feel empty at the moment," scorer Stina Blackstenius said after the game, with manager Eidevall echoing similar sentiment. "We're allowed to feel empty," he said. Ten minutes after the full-time whistle, the Emirates was anything but.
There was no abjectness or apathy – fans stayed to thank Arsenal's players for the drama and jeopardy, for the fun and entertainment. The giddiness of the occasion prevailing.
Katie McCabe, standing in as captain for the injured Kim Little and deputy Williamson, led the lap of appreciation. The feeling was mutual. Supporters cheered and applauded as they had done throughout a gallant 90 minutes of football.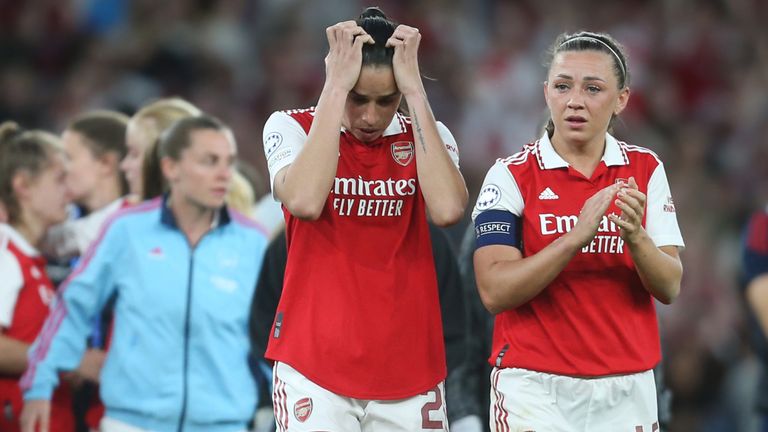 Arsenal had lost the battle but won the war. By any reasonable argument, the Gunners had already outdone themselves. They had lost their four most important players – Miedema and Beth Mead around Christmas, as well as Little and recently Williamson to injury. Caitlin Foord, Arsenal's creative catalyst, was also ruled out.
The odds were stacked against. Yet, unperturbed, Eidevall's side ploughed on, determined to show they were worthy of a first Emirates sell-out. So it proved after 11 minutes, as Blackstenius raced onto Lia Walti's hopeful pass, second best to reach it but spurred on by the excitement emanating from the stands. She shook off Kathrin Hendrich's advances, jinked around Merle Frohms and rolled the ball into an empty net. The stadium erupted.
Perhaps that moment alone would have been enough to satisfy, given Arsenal's predicament, but there was room for more. The packed stands sensed it, despite former Gunner Jill Roord doing her best to silence the crowd with a leveller shortly before half-time. In truth, her contribution only encouraged fans, who now had a pantomime villain to direct their playful angst at.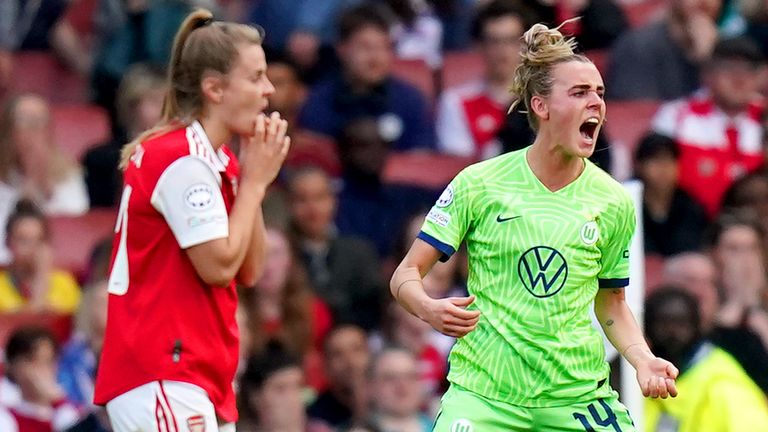 In the second period, Alexandra Popp's clever near-post header did similarly little to dissuade. Wolfsburg, packed with pedigree, were demonstrating why they are two-time European champions, and why they had reached the Champions League final in 2016, 2018 and 2020. Arsenal's last such (and only) appearance was 2007. But antiquity was irrelevant on this historic night – it was about rewriting the script, changing the narrative, breaking the proverbial glass ceiling.
Jen Beattie was perfect for the lead role. An Arsenal stalwart. In the most unlikely of combinations – centre-half to centre-half – Beattie rose highest to glance Lotte Wubben-Moy's deft cross into the corner of Frohms' net with 15 minutes remaining. She wheeled away in celebration, poleaxing Wolfsburg captain Popp in the process.
The incident was entirely accidental but symbolic of Arsenal's impetus. Merely participating was not an option; they were there to compete and willing to steamroll anyone who suggested otherwise.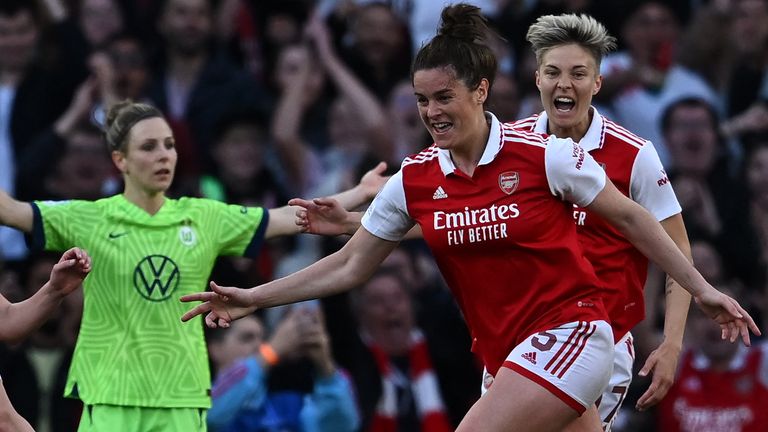 Eidevall, who never sat down throughout a breathless second half, nearly watched his side pull off the impossible. The rise and fall sent ripples then shockwaves through the stands as the game ebbed and flowed, ultimately decided by a cruel twist of fate in the dying embers. Wubben-Moy was robbed, substitute Pauline Bremer well positioned to capitalise – Arsenal's European dream all but over.
Imminent heartbreak was etched on the faces of the 11 players who finished the game, but also on the numerous players who were forced to miss out. Williamson, cheerleader turned consoler, was seen comforting team-mates. No fairytale ending.
Yet, an undertone of positivity engulfed the circle that had been gathered near the Arsenal dugout shortly after the final whistle had blown – players, coaches and support staff included.
Arsenal Women head coach Jonas Eidevall was proud to have at least reached the Champions League semi-finals after the challenges and injuries his side had to overcome

This occasion did not manifest by luck. It was not intended to be a one-off. It marked another watershed moment, wrapped in fortitude and fondness. And thus, as the huddle came up for air, down by the nearside touchline, the beginnings of smiles emerged. Like sunlight peaking through a cracked window.
Even Laura Wienroither, forced off with a suspected knee injury after a nasty fall, could be seen in good spirits, bearing a crutch in either hand.
"We were the lucky ones," Wolfsburg's Roord told Dazn post-match, as if to acknowledge Arsenal's immense contribution to a thrilling semi-final. "We have a lot more to give," Blackstenius concluded in her respective interview.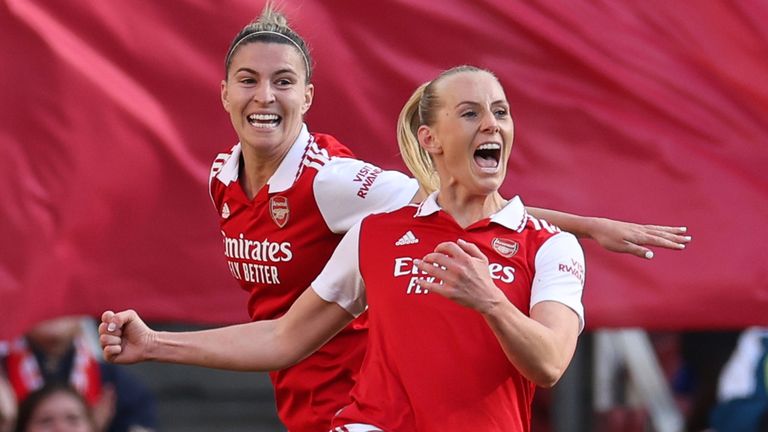 Arsenal will grace this stage again but the long-term significance of this fixture will be felt well beyond the tournament final in Eindhoven on June 3. This was a lesson in the importance of legacy.
For now, while the dust settles around them, the Gunners must do what they have been doing all campaign – pick themselves up and go again.
"We're in a tough situation for the remainder of the season," Eidevall added. "Both to get our feet and heads back from here. I know we've done some great things – we won the League Cup and were so close to the Champions League final – but I'm always thinking next game."
Dwelling on setbacks is not a currency this Arsenal camp deal in. They are a team in harmony, and they will shine again.
Watch Arsenal vs Leicester City live on Sky Sports Football on Friday from 7pm, kick-off 7.30pm.
[ad_2]

Source link